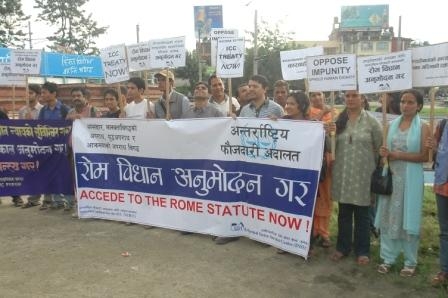 A public demonstration for pressurizing the government to accede Rome Statute of ICC was held in Maitighar Mandala of Kathmandu in September 27, 2007. Informal Sector Service Center (INSEC), coordinator of NCICC and Amnesty international have jointly organized the program to ratify ICC immediately to end impunity in Nepal.
Evilman, coordinator of ICRC Asia, shown solidarity in the program and praising about activities happened in Nepal. She stated that Nepal would go forward in the path of justice after ratifying ICC so Nepal has to accede to Rome statute. She also demanded to stop activities on human rights violations. She urged that ICC is an instrument for perpetrators to bring into justice.
Acting chairman of Amnesty International, Dhruba Kumar karki also added necessity to accede ICC to end impunity. NCICC has been organizing various programs to memorize parliamentarians about their commitments given in front of people as well as in the parliament.
Volunteers form co-cap, a human rights organization, was shown street drama in the program. Various leaders of human rights organization were present at the moment.
A parliamentary meeting held on 25 July, 2006 had given unitary directives to the government to accede ICC and question raised by the various parliamentarians about not to accede Rome statute. Still process has not been forwarded.
A committee set up on 18 October, 2006 to study about effect and duty has been submitted its report on 14 December, 2006 to the deputy Prime Minister Khagda Prasad Sharma Oli about consequences after ratifying ICC by the government.