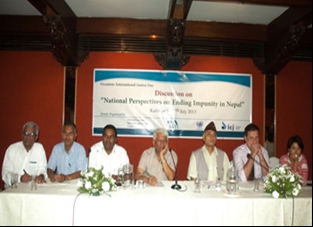 National Coalition for ICC jointly with International Commission of Jurists, Informal Sector Service Centre (INSEC) and Human Rights and Democracy Forum (FOHRID) organized a discussion on "National Perspectives on Ending Impunity in Nepal" in Kathmandu on July 17. International Justice Day is celebrated across the world on July 17 commemorating the establishment of the International Criminal Court on July 1, 1998 and the adoption of the Rome Statute on July 17, 2002.
Speakers at a program have stressed on ratification of Rome Statute of the International Criminal Court (ICC) to end impunity. INSEC Chairperson said that impunity would only end when those running amok are brought to justice. He said that justice would prevail in the end despite various versions and activities of various persons.
Representative of ICJ-Nepal Benjamin Shonveld urged the political parties to take steps towards ending impunity by establishing Truth and Reconciliation Commission. Saying that granting amnesty in incidents of grave violations of human rights is protecting impunity, advocate Govinda Sharma "Bandi" said that there was no alternative to ending impunity by considering the international practice.
Chairperson of Madhesi Janadhikar Forum Upendra Yadab said that justice would be denied if laws were not formulated according to changed context, adding that the then parliament had endorsed a resolution on ratifying the Rome Statute in 2006.
CPN-M leader Ekraj Bhandari stressed on making domestic laws before ratifying Rome Statute in order to end impunity. He said that those involved in serious human rights violations might enjoy amnesty in future if Rome Statute was not ratified.
NC leader Arjun Narsingh KC said that the Rome Statute could not be ratified as all political parties did not have clear understanding of the Rome Statute. He emphasized on social campaign to end criminalization of politics and politicization of crime. He added that such campaign would establish rule of law and end impunity. Saying that granting mass amnesty would increase impunity, he said that ratifying Rome Statute would help curb crime.
The program was conducted by INSEC Executive Director Bijay Raj Gautam.

New website of the NCICC www.ncicc.org.np was also made public amidst the program. Samjah Shrestha of INSEC said that the campaigns and activities regarding ICC would be included in the website.